Kids at Your Wedding: Yes or No?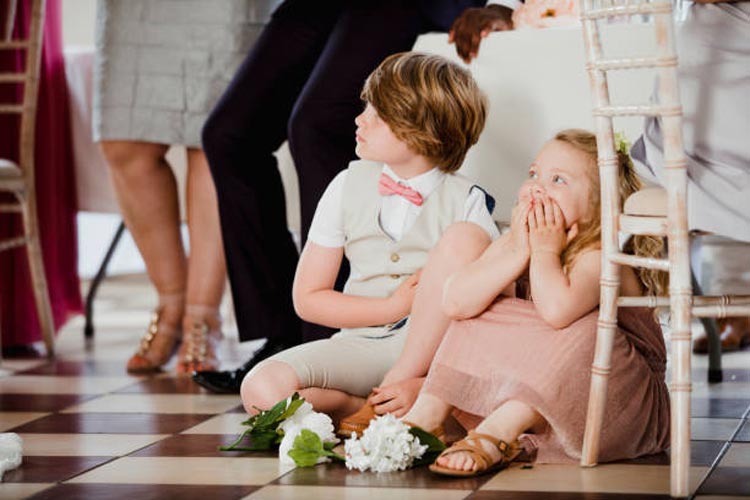 The question of whether or not to invite children to a wedding is always a difficult conversation. While some people believe that children provide a particular charm to a wedding, others often think of the yelling and disruptions that children might cause in crowded banquet halls.
We understand that this is not an easy question for couples to answer, but it's one you'll have to deal with sooner or later. That being said, we thought we would put together a brief article to help you during your decision-making process.
Continue reading below for a few tips to help you decide whether you should invite kids to your wedding and learn more about how Mile Square Golf Course can help you throughout the entire wedding planning process.
5 Tips for Deciding Whether to Invite Kids to Your Wedding
If you are still deciding whether to invite kids to your wedding, it might require some forethought to come to a final decision. To help you decide what's best for you on your big day, here are a few tips to help you determine whether or not children should or should not attend your wedding:
Make Your Decision Early
Before you start drafting your wedding invites, the two of you need to settle this issue. While it may be a topic that is likely to be divisive, it's important that you make this decision early on in the process.
Accommodating family on your wedding day is often more difficult than anticipated, but there are a few things to keep in mind that might make the decision-making process slightly easier.
For one thing, children can be unpredictable, so you'll have to rely on their parents to keep things in check. You should also consider how having kids in attendance would influence your wedding budget and if specific childcare services should be considered in your budgeting.
An outright prohibition on kids at your wedding, on the other hand, is certain to ruffle some feathers. If you have close family members with little children, they may find this strict regulation inconvenient or even disrespectful. Other guests with children may need to make childcare arrangements ahead of time, which can be difficult for a destination wedding because they will be away from their usual go-to resources.
Decide Who's Invited
The next step is to inform your guests of your final decision. You'll need to be completely transparent about your wedding's child policy, but how you go about doing so is entirely up to you.
You might want to consider adding your child policy to your wedding invitations, or you might want to create a dedicated page on your wedding website specifically regarding children attending or not attending your wedding.
Despite how difficult it may seem to make this decision, try to maintain your composure as much as possible and thoroughly explain that you're sorry you can't accommodate everyone and that you are trying to keep the guest list to a minimum.
Additionally, if you are planning to invite kids to your wedding, include the phrase "and family" on the invitation envelope. If you aren't inviting children but someone RSVPs for theirs, you may find yourself in the awkward position of having to call them and explain that you were unable to accommodate everyone's children.
Managing the Kids
If you have children at the wedding, make sure you have plans in place for their supervision and entertainment, especially during the most crucial parts of the day. Parents and children should be seated at the same table, and it's a good idea to ask if your venue will allow a movie to be shown during occasions like the speeches to keep the kids entertained.
While it may appear to be a good idea to seat all of the children at a single table, an unsupervised group of children is the quickest way to move a wedding from a formal reception to complete chaos. Furthermore, placing a single guest at a table with a lot of kids is the quickest way to ruin their time at your wedding.
Another option for keeping the kids under control at your wedding is to hire a dedicated chaperone. Consider hiring a family friend or teen/young adult who would be willing to be a designated chaperone for a few hours to keep an eye on the children.
Offer a Kid's Menu
It's also important to consider the meals you plan to serve the kids when making food selections for your wedding.
Your wedding guests may be served a five-course meal prepared by you, but what about the kids who will be attending your wedding? They're unlikely to be enthusiasts of good dining, so be sure to collaborate with your catering team to design a simple, kid-friendly menu from which they can choose.
Remember, this isn't the time to be a food snob, as most kids will only eat fun things like pizza, chicken fingers, or hot dogs. Save yourself the trouble and money by skipping the fancy meal, and you might also want to consider adding something fun like an ice cream sundae bar for dessert.
Children's Entertainment
Lastly, because children have short attention spans, you may need to set up some distractions or kid-friendly entertainment in a separate room, such as movies, puzzles, board games, or video games. You might also want to consider putting together some gift bags for them that include small games, sketching kits, or other similar items that can easily be found in nearby arts and crafts stores.
Additionally, when considering entertainment choices, keep in mind the ages of the children that will be attending. For example, you may want to hire a children's entertainer to perform as an opener before your wedding band takes the stage to exhaust the children early on in the evening.
Plan Your Wedding with Mile Square Golf Course
Allowing children to attend your wedding is a big decision, and it's not one you should take lightly or make too fast. Before coming to a final decision, be sure to spend some time talking about it with your partner and figuring out what works best for the two of you and your desires for your big day.
Are you planning a wedding but having a difficult time deciding which venue to choose? Mile Square Golf Course can help.
We recognize that you have a lot of big decisions to make when planning your wedding, which is why we strive to make the process easier for you. We can help you plan your ideal wedding so that you and your partner can relax and have fun on your big day.
Call Mile Square Golf Course to schedule a tour of our Fountain Valley facilities and to begin planning your wedding with our friendly staff today.