6 Essentials For Designing a Unique Prom Venue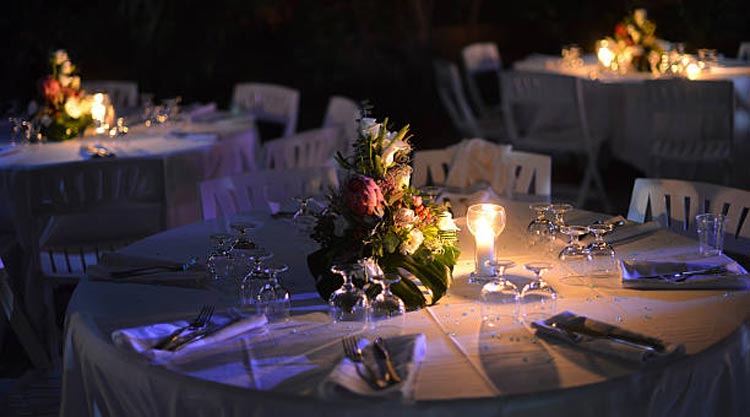 Prom is a rite of passage for high school students, so it's important to design a very special look for your event space. This special event can create memories that last a lifetime, and you can help make those memories with great decor.
There's no shortage of prom venues in Orange County, with options ranging from hotel rental to outdoor spaces. Whatever you choose, follow these guidelines to put together a memorable, fun event with a unique California twist.
1. Choose a Theme
The first step to planning any party is choosing the theme and desired look, and prom is no different. Just like a wedding, a prom needs to have a theme to guide the decor and overall style.
Time has shown that some themes endure, especially those that take inspiration from nature—think the night sky, the ocean, or even lush forests. When it comes to themes like these, it's helpful to take advantage of the event spaces. An outdoor event makes it much easier to admire the stars, for example!
Ocean themes are just as popular in Santa Ana, CA as in Dana Point or Laguna Beach. The sky's the limit, so feel free to consider themes that are out of this world, from a past century, or from around the globe.
2. Figure Out Logistics
Logistics are a vital part of any private event planning. Before you even choose a specific venue, you'll want to consider capacity, location, catering, business hours, and other details that will affect the events of the night. A professional planner can be helpful when it comes to hashing out these specific issues.
Capacity determines the number of students that will be allowed inside the event. If your school is large, this will be an especially important detail.
It's important to scout out prom venues Orange County offers that are convenient for guests. Where your venue is located will make all the difference to how many students can attend. Keep in mind the location of the high school.
Thanks to the pleasant California weather, you likely won't need to worry too much about rain. It's always a good idea to plan for inconveniences, though. Try looking for a location that will let you use both the outdoor garden area and indoor areas as well.
3. Find Catering
Depending on the event venue you select, you might need to seek outside sources for catering. Finding catering options to suit your needs can be a hassle if you don't have any guidance.
Many high schools in Yorba Linda and Fullerton, CA have found that it's much simpler to select banquet halls in Orange County that offer catering packages. That way, finding a venue is also a solution for feeding guests.
Not all proms include a full dinner, but a banquet hall or other wedding venue will give you more options in terms of food and drink.
Wedding venues tend to have full-service catering options, so consider searching for Orange County wedding venues. They should have the space and capacity to serve light snacks and drinks at events.
Since you're planning for high school students, there's no need to worry about the bar accommodations. That will save you headaches and open up more location possibilities beyond the usual Orange CA hotel or resort options.
4. Find the Right Venue
There are a number of considerations to take into account when you're trying to find the right venue for a special event.
Consider what the space is normally used for. A location known for corporate events may not be the best choice for a prom. A hotel or community center that is often used for as a wedding venue might be more appropriate.
You can even get feedback from people who have held events in the space you're looking at. They can let you know about the venue's response time, catering quality, and any number of things.
And again, remember to consider capacity. A venue that is too small won't have enough room to comfortably hold students and their guests, and it can be a fire hazard.
You'll also want to make sure there's plenty of room for students to park their cars. The parking lot should have plenty of capacity, too.
There are plenty of options prom venues Orange County can accommodate thanks to its location near locations like Huntington Beach, Los Angeles, and other landmarks. Whether you're in Santa Ana or Orange, CA, you can find the perfect private location for your students.
5. Set the Tone
It's important to settle on a tone for this special night. Some prom events tend to have a more formal style and theme, in turn capturing a country club feel. Another option is to emphasize a fun, lively environment that leaves students feeling excited.
Some event venues can help with this by adjusting the lighting or other details in response to your needs. Lots of florals and simple decorations create an elegant, formal style. You can save the loud music for the dance floor, or later on in the night.
The most important thing is to impress your guests and make the night feel special and exclusive. Prom will be the first private party that some students have attended!
Make sure to use the location's features to your advantage, whether it's a hotel, resort, or banquet hall in Orange County. Gorgeous gardens make for an enchanted evening, for example, and they don't require any setup. Wherever you are in Orange CA, outdoor events are a must for prom magic.
6. Decide on Decorations
Decor can transform a room into something truly special. Event locations are important, but the decor style will make the first impact on your guests!
A little can go a long way, especially when the prom location is already stunning to begin with. Streamers, balloons, and glitzy wall hangings are popular festive choices.
If you're taking advantage of the California weather and including the garden area in your decor, try adding fairy lights and outdoor props that can add some style to a beautiful outdoor view.
Photo backdrops are the perfect interactive decorations. They add glamour and provide a fun activity, usually with a number of props. Wedding locations may have photo booths or props available for you to borrow.
Whether you're located in Orange CA or Newport Beach CA, great venues in Orange County can enhance your events and make them stand out from other parties. Even when you're planning an event less elaborate than a wedding, the guest response and happiness matters.
Host the Perfect Orange CA Prom
If you're looking for banquet halls in Orange County to host your prom, consider Mile Square Banquets. Our award-winning event space is located in Fountain Valley, also known as the center of Orange County, and is convenient to cities from Long Beach to Costa Mesa. Contact us today to learn more about our prom planning services or schedule a visit at Mile Square Banquets today.